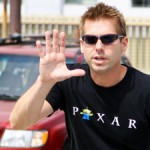 For over twenty years, Christopher Leps has played an active role in cinema. His diverse career started at the Walt Disney Company in 1989, but his zeal for motion pictures began long before then; sparked by the movies of his childhood. An original Teenage Mutant Ninja Turtles performer at the Disney Studios, Chris went on to appear in a number of live shows, including Marvel's X-Men Adventures, Disney's Indiana Jones Epic Stunt Spectacular, and the Wild Wild Wild West Stunt Show at Universal Studios.
His passion for film, combined with his athletic background, led Chris to stunt performances in over 140 episodes of television and more than 30 feature films, including projects such as Buffy the Vampire Slayer, 24, Alias, CSI, Ray Donovan, Agents of S.H.I.E.L.D., the Pirates of the Caribbean saga, Avatar, Transformers, The Adventures of Tintin, and Transcendence. As a stuntman, Chris has doubled for many of the top names in Hollywood, such as Casper Van Dien, Kiefer Sutherland, Jeremy Piven, Colin Farrell, Ewan McGregor, Justin Bartha, Matt Damon, Aaron Eckhart, and most notably, Johnny Depp.
A member of SAG-AFTRA and the AFI, Chris is a Screen Actors Guild Award nominee and winner, in recognition of his performances in both television and film. As a filmmaker, Chris has written, produced, directed, and edited a variety of projects, including Golden Trailer Awards nominee – Shadow, Best Documentary award winners – Ed & Vern's Rock Store and Century of Light, and short films – Amy & Elliot, Wholehearted, Muse, and Testing. With an array of projects at the forefront, Chris continues to work and create in the motion picture and television industry.
To learn more about Chris, visit www.christopherleps.com